What a weekend! Friday my family went out and picked strawberries and today I finished  canning them in jellies and jams. Yum!
Thank you to my friend Dawn for coming over and helping me. I can honestly say that I have never cooked or canned with someone else and ended up with a kitchen this clean. 🙂
No posts on recipes tonight, though. This Mama is pooped.
The kids just finished watching a Larry Boy cartoon movie and are in bed.
I love how they just smile for my random photo taking.
Aaron didn't even take his eyes off Larry Boy. Pros.
Oh, I also made my first batch of coconut milk. I have the coconut pulp dehydrating in the oven so I can make coconut flour. The recipes for these I got from TheMindfulFoodie. 
Now I get to sit and enjoy catching up on some reading and my husband's yummy iced Thai tea. (He just bought the tea grinds from a local Asian market and made it in our tea maker.)
This 27 year old Mama knows how to have a good time. 😉
So, good night. 🙂 I have to get up early to volunteer at our Church for a few services. I hope you are having a wonderful weekend. Check back Monday for the recipe to our loquat strawberry jelly. Loquats are in season right now in Florida and they are growing everywhere.
Well, maybe I will make one more thing tonight. But only because I am a chocoholic. I stumbled across this recipe on Pinterest. I will let you know how it goes! I mean, look at this picture. Could you pass up a chance to make OR eat these? AND they're vegan!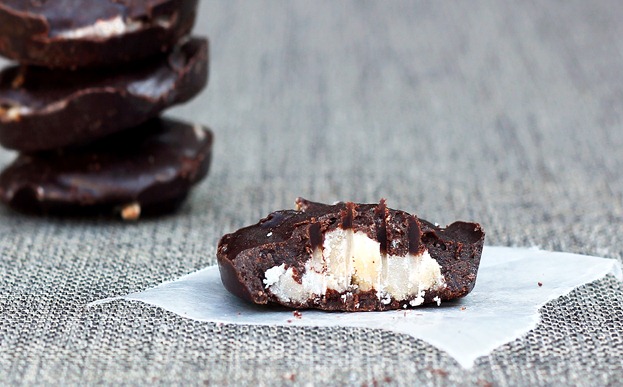 It is either I make those or I actually sit down and fold my mountains of laundry. hmmm…
Warning: more clean laundry has been
added to this pile since this picture
was taken.