I love finding new Teachable Moments to share with my kiddos- especially around the Holidays! Check out some fun Teachable Moments on my Mommy and Me Devos page. Here are some fun and FREE Candy Corn games and crafts that are great for the Fall!
Did you know that you can use candy corn to teach your kiddos a great Bible lesson?
Here is how you can use a sweet treat like candy corn to teach your kids a sweet Truth about God:
How many colors are on one piece of candy corn? (3)
What colors are they?
Did you know that Candy Corn can teach us about our awesome God?
We may love one awesome God but the Bible teaches us that He is 3 in 1- just like this candy corn! The fancy word you may hear in church is the "trinity"
As we grow and learn more about God we will discover that he is the : Father, Son, and Holy Spirit. (Have your children pick a color to represent each part of God.)
Take it a step further: Why is God 3 in 1? Maybe it is to show us that no matter what He is with us! That is how much He loves us! He is God (Father), He came to live like us (Jesus), He wants to live in our hearts (Holy Spirit). Every time we munch on some sweet candy corn it can remind us just how much God loves us!

Supplies: printed coloring page, scissors, paint, crayons, or markers
Supplies: 1 die (or 2), printed game sheets, candy corn (YUM!)
Supplies: printed pennants, scissors, crayons
** Here is my kid's artwork. My kiddos LOVED it. I will have to post pictures of them doing this craft later **
Supplies: printed counting sheets, candy corn (YUM!)
More Fun with Candy Corn…
Candy Corn Race: Place one  bowl of candy corn at one side of the room and an empty bowl at the other side of the room- use enough bowls for each child to play or split into teams. Provide each child with a spoon. Have them see who can bring the candy corn from their filled bowls to an empty bowl the fastest. For older kiddos: have them do it without their hands- (spoons in their mouths)- or try it blindfolded!
Candy Corn Garland/Edible Jewelry: For older children, have them string candy corn onto plastic jewelry wire (or thick string) with a needle and create a great candy corn decoration or wear it as edible jewelry.
Candy Corn Sight words and Learning Games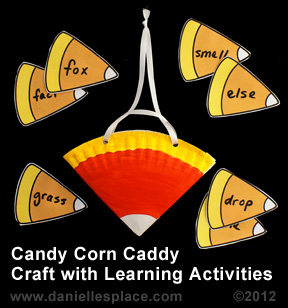 How Candy Corn is Made by The Food Network