I know November is almost over but here are a few fun ideas for you and your family this Thanksgiving.
As commanded in Titus 3, my husband and I are passionate about using what is in the world around us to teach our children about their amazing Creator and Loving God. I love sharing our silly stories and simple ideas if it can encourage even one reader to talk more, teach more, and show more the love of our amazing God.


Here are a few fun Thanksgiving ideas that we have done this month in our home. I shared them with Heidi from www.abcjlm.com too- so you will see a few links to her blog and website. (She shares the same passion that I do!)
Click HERE to get your FREE Bible Verse Coloring Page printables. Or  you can find a few fun frames and print these Bible verse pages to hang them around your house as decorations this Thanksgiving. Click Here: bv5 bv4 bv3 bv2 bv1 bv6
We had so much fun making this Thanksgiving centerpiece. Best of all, it cost under $5 total (that includes the potpourri and fall scarecrow from the Dollar Tree)!  Click HERE
Looking for ways to get your children involved in setting the Thanksgiving table? Make these cute Thanksgiving napkin rings! Click HERE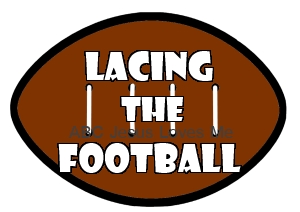 This would be a great activity for children to do during a big game, college bowl, or Super Bowl. It's also great for Thanksgiving Day football games!  Have one printed for each child and the supplies laid out for each child to create. Click HERE
Here is a fun and inexpensive craft for you and the kids. I stopped by the dollar tree and picked up fall leaves and plain headbands. Make these adorable Fall Headbands for just a few cents each! Get out the hot glue gun and have fun decorating your headband with the fall leaves and fun fall fabric scraps. I also used glitter pens and small gems that we had in my daughter's crafts.
MORE FUN THANKSGIVING HOME DECORATIONS:
Cranberries and floating candles
cranberries
water
glass bowl (or jar)
floating candles
(optional) twine or ribbon to tie around your glass container

Here is a simple (and inexpensive) decoration you and your kids can create together.
Fill your glass container ½ or ¾ full of water. Place cranberries into the water. Add floating candles in a glass bowl.
If you choose to use this as a centerpiece on your table tell your children that each berry can remind us of something we are thankful for. There are SO MANY reasons we can celebrate and tell God "thank you".
Turkey T-
white t-shirts (for the kids you can find these at the dollar tree)
scraps of fabric
iron on
fabric pen

Pick one fabric shade to cut out the turkey's body
Have fun picking out scraps of fabric
On each piece ask your kids to help you to name things that they are thankful for. Write their responses on the scraps of fabric
Use these scraps as your "feathers"
Iron on your turkey and his feathers.
Pinecone basket (with a twist): Go outside with the kids and find a few beautiful pinecones.
Bring them in the house and place them in a basket as decoration. (Option: buy some potpourri and add it to the mix  or purchase a large candle to place in the center to make this centerpiece smell extra nice.)
While the kids are sleeping get out small slips of paper. On each slip of paper write out one reason you Thank God for each of your kiddos. Tuck these pieces of paper so they hide in the pinecones. Each day, let your kids search the pinecones for one hidden piece of paper.
Thanks Ornament
  globe ornament
  crayons, markers, or pens
  scraps of paper
Talk about it before you begin:
Did you know that Jesus gives God thanks BEFORE a bunch of super amazing miracle even happened in the Bible? (At the wedding before he turned water into wine, before feeding the 5000, before dying on the cross and rising again)
Let's be like Jesus! We can give God thanks BEFORE anything happens because we know that God always watches over us, loves us, and provides for us.
What are some things we can thank God for?
Give out pieces of scrap paper to each family member. Draw or write a picture of what you want to tell God "thank you" for in the New Year. (Examples: make you stronger, take care of you, use you to do SUPER things at school…etc.)
Place your pieces of paper inside your ornament to hang on your Christmas Tree this year.
Talk about it: Every time we see this ornament it can help remind us to stop and just tell God "Thank You".
Make this an annual family tradition! Next year take out the ornament and read what you wrote this year. Talk about all that God did in your lives over that year! Give Him thanks for what He did and then challenge yourselves again to give Him thanks for what He is going to do BEFORE the next year begins.
Turkey Counting Dance
1-2 gobble gobble gobble
3-4 wabble wabble wabble
5-6  peck peck peck
7-8 stretch your neck
9-10 Do the turkey dance again!
(TraurigsinTraining original 😉
Five fat turkeys short and plump
(Show 5 fingers)
The first one hid way high upon a stump.
(Hold up pinky finger and point up)
The second one said, "We should run, run, run"
(Hold out two fingers to "run")
The third one said, "or we'll be done."
(Hold out 3 fingers and then cover them)
The fourth one said, "I don't want to be dinner."
(Hold out 4th finger –pointer finger- shake back and forth like saying "no")
The fifth one said I wish I were thinner!"
(Hold out the thumb and shake)
(Song adapted from www.everythingpreschool.com)
Five Pilgrims
Five Pilgrims fish in the morn (act like casting and reeling in fish)
Five Indians help them plant corn (bend down and plant corn)
The Indians bring the corn (hold up one hand)
The Pilgrims bring the meat. (hold up the other hand)
Ten new friends sit down to eat. (put hands together)
(Song from www.everythingpreschool.com)
Ted the Turkey
(Sung To: I'm A Little Teapot)
I'm a little turkey, my name is Ted.
Here are my feathers, here is my head.
Gobble, gobble, gobble, is what I say
Gobble, gobble, gobble, It's thanksgiving Day!
(Song from www.everythingpreschool.com)
Turkey Hopscotch!
Draw the turkey hopscotch outside with chalk or bring it inside by using masking tape on the floor.
** Sing and Dance the Turkey Dance as you play hopscotch or just have fun doing it together in the house!
Thanksgiving Day Parade Fun
Have a Family parade!! Have fun dressing up and marching around the house. Let the kids dress up like you or in their own costumes. Get out the spoons and pots and let your little conductors march around the house making parade music. March with them or sit back and cheer them on!
**One Rule: You may only have your phone out during the parade if you are taking pictures or videos of the kids, otherwise… no phones allowed!
Did you know? The first annual Macy's parade was conducted in 1924. Giant balloons were added in 1927 and have been a staple ever since.
Looking for ideas to encourage your children to pray? If ever you have eaten at our house you have heard this little prayer song. Try it out this Thanksgiving! Click HERE
Fun Facts
The History of Thanksgiving
Early colonists celebrated "Thanksgivings" after things like: military victories, ends to a drought, or other favorable events.
The Christian group known as the Separatists (later called Pilgrims) generally did not celebrate holidays, but often proclaimed a Day of Thanksgiving and Praise because of good things God was doing in their lives. These days of feasting and praise were held on the day of special sermons called "Lecture Days," which only took place on Thursdays in Massachusetts.
It was not until the enactment of the Constitution that a national Thanksgiving holiday was made official. President George Washington, recommended to Congress that Thursday, 26 November, 1789, be to the people of the United States " a day of public thanksgiving and prayer" when all people would acknowledge with thankful hearts the "many and signal favours of Almighty God." For many years after, the celebration of this Thanksgiving Day was left up to each State.
After the battle at Gettysburg- in 1863- Abraham Lincoln held a national day of Thanksgiving. Soon everyone started asking for a day to celebrate each year. So in 1867, President Andrew Johnson established the last Thursday in November as the official Thanksgiving Day.
Random facts:  In 1870 Ulysses S. Grant moved Thanksgiving to November 18 and from 1939 to 1941, Franklin D. Roosevelt moved it back a week to extend the Christmas shopping season.
Today, in the United States, Thanksgiving is an official holiday on which all public business is closed. (For more fun facts visit: http://www.religionfacts.com)
Presidential Turkey Coloring Page
As you color your pages talk about the Presidential pardon of a turkey:
Did you know that each year the President "pardons" one turkey? What does "pardon" mean?
Did you know that God "pardoned" us when he chose to let Jesus die on the cross to set us free? Because God is perfect and we struggle with our sins- wrong choices- the Bible tells us that our sins keep us from God. We would not be "set free" without God's pardon.
This Thanksgiving we can remember what Jesus did for us. Jesus loves us so much that he died to pardon us. Wow! Thank you God for giving us Jesus! And Thank you Jesus for setting us free!
For more on the history of pardoning the Presidential Turkey visit: http://en.wikipedia.org/wiki/National_Thanksgiving_Turkey_Presentation
Hand print Sugar Cookies:
(From scratch or just buy a bag of like Betty Crocker)
From Scratch Recipe
–       2 3/4 cups all-purpose flour
–       1 teaspoon baking soda
–       1/2 teaspoon baking powder
–       1 cup butter, softened
–       1 1/2 cups white sugar
–       1 egg
–       1 teaspoon vanilla extract

Mix together the sugar cookie dough.
For "from scratch cookies":

Preheat oven to 375 degrees F (190 degrees C). In a small bowl, stir together dry ingredients and aside.
In a large bowl, cream together the butter and sugar until smooth. Beat in egg and vanilla. Gradually blend in the dry ingredients.

Roll out flat onto a flat surface.
Have child make a hand print on the dough.
Trace out hand print with a tooth pick or have the children remove their hand from the dough after making the print and cut out with a pastry cutter.
Bake according to the directions on the package OR here are the baking instructions if making from scratch:

Bake 8 to 10 minutes in the preheated oven, or until golden. Let stand on cookie sheet two minutes before removing to cool on wire rack.
 This is where the fun begins! As you decorate…
decorate your hand print to look like a Turkey
decorate your hand print however you want!
However you choose to decorate your cookies be sure to talk about it! What are 5 things you are thankful for? What are 5 things you can thank God for? (Name one reason for each finger.)
For the itty bitties talk about how special their hand prints are. No one has a hand print like theirs! God made them special and God only make one of them! Thank you God for making me.

Pumpkin Muffin Turkeys

(I included some slightly healthier substitutes that we used)
4 eggs
2 cups sugar
1 can of pumpkin (I pureed our Halloween pumpkin and used 2 cups of that)-  I have the DIY on pumpkin puree on the site: http://www.traurigsintraining.com/diy-pumpkin-puree/
1 tsp vanilla extract
1 1/4 cups of vegetable oil (I substituted coconut oil)
3 cups flour (I used 2 1/2 cups of flour and 1/2 to 3/4 cups wheat germ)
2 tsp baking soda
2 tsp baking powder
2 tsp cinnamon
1 tsp salt
12 ounces semi-sweet chocolate chips
– preheat oven to 400 F
– beat together first 5 ingredients
– mix dry ingredients into your pumpkin mixture
– add chocolate chips
– fill greased muffin cups 3/4 cups
– Bake for 16-20 minutes
Allow muffins to cool and then enjoy turning these delicious muffins into turkeys.
— My 3 year old REALLY had fun eating the muffin and saying it was a turkey. It is all about making memories… not perfection. 🙂 I will forever remember my 3 year old talking about eating the Turkey's "feathers" and "bottom". To see some fun pictures of my kiddos making these adorable turkey muffins visit
OurOutOfSyncLife.com
.
Veggie Cup Turkeys
Looking for a fun veggie snack for Thanksgiving?
 clear plastic cups
fun turkey heads (print out or make with construction paper)
veggie dip or hummus
colorful bell peppers
Decorate the turkey outlines.
Tape onto the outside of the small clear cups
fill the cup with your favorite veggie dip or hummus.
slice various colored bell peppers into strips and place in the cups
Enjoy snacking on or as a fun family appetizer for Thanksgiving.
Additional fun and free Thanksgiving resources: