Granola Bars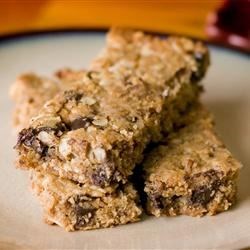 Playgroup Granola Bars photo from allrecipes.com
There are SO many great recipes online for homemade granola bars. I would feel silly posting one that I just got from another site. 🙂 There are two recipes that are my favorites. Depending on what you are wanting to accomplish by making this snack you may  like one recipe or find another site/blog has a recipe that best suites you.
My first priorities are going to be making snacks on a budget and making snacks that are in some way healthy. My feeling is, if I am going to spend the time and resources to make this snack it has to be more cost effective and/or much healthier than the store bought alternative.
Check our this simple 5 ingredient recipe from Whole Foods for Chocolate Chip Granola Bars. 
(I used coconut oil instead of canola oil.)
A Traurig family favorite. Yum!
*While I can usually get a box of 10 bars from Quaker for under $2, this recipe yields over 2x that amount and uses ingredients that are just sitting in most of our pantries.
* You can substitute any nuts, fruits (like craisins), or even chocolate for the raisins.
* A great site to order wheat germ at a low cost (possibly FREE!) is Vitacost. Get $10 off your first order.
*** A TRICK: Wait about 2 minutes after taking the bars (either recipe) out of the oven. Cut them into bars. Wait until they fully cook and then remove them from the pan. This is the best way I have found to successfully get them into bars without them "falling apart".
Do you have a favorite Granola Bar Recipe? PLEASE share below! We love making and eating homemade recipes like these.